Green Fingers Week!
Green Fingers Week!
11 May 2018 (by Abigail Smith (Miss Smith))
Monday 14th- Friday 18th May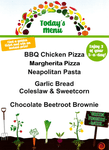 Next week is Green Fingers week, the catering staff will be providing a different taster every day for the children after they have eaten their dinners. We also have a special Green Fingers menu on Thursday 17th May.