The Big Pedal!
The Big Pedal!
20 March 2017 (by Abigail Smith (Miss Smith))
Travel to school on your bike or scooter.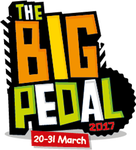 As a school, we are competing in the Big Pedal this year. Our aim is to get more pupils travelling to school on their bikes or scooters. The more pupils we get, the more chance we have of winning prizes!